A plumbing emergency always seems to happen at the worst time, like when you have guests over or when it's late at night. Knowing the difference between a true plumbing emergency and one that can wait can help you make the right call for your situation. Contact your local Plumbers in Shreveport in case of emergency.
Clogged Drains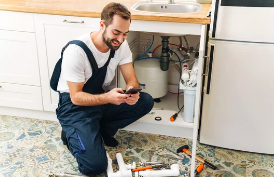 Clogged drains are a common cause for emergency plumbing, as they can quickly lead to flooding, water damage and even health issues. It's a good idea to get to know the warning signs so that you can take quick action before it is too late.
The most obvious sign of a clogged drain is slow drainage in the affected sink, bathtub or toilet. This can be due to soap scum buildup, hair or even grease. In some cases, you may even notice that water is pooling up on the floor around your sink or bathtub. A clogged drain will also make gurgling noises when it is filled with water. This is a sign that the blockage is getting worse.
Another way to tell if you have a clogged drain is when you can smell something foul coming from the affected area. The odor will depend on what is trapped in the clogged pipe, but it will be unpleasant. You may also notice that there is a lot of trash in the sink, such as old food or diapers.
If you cannot fix your clogged drain with the help of boiling water and household products, it is time to call in a professional. Plumbers use specialized tools to clear even the most stubborn clogs, making it possible for you to regain full functionality of your plumbing system again.
One of the most serious problems that can occur is when multiple drains clog at once. This is typically a sign that there is a large sewer line clog and could be a health hazard for your family. The clog may allow waste to back up into your toilets and other fixtures, and it may even reach the kitchen drains and cause sewage backup.
If you have a drain clog, call in a professional right away to avoid costly repairs and potential health concerns. It is also a good idea to schedule regular drain cleanings with a professional, so that you can prevent drain clogs in the future. A professional can use a drain snake to remove the clog and inspect your plumbing for any other issues.
Broken Fixtures
There are plenty of things that can go wrong with your plumbing, from a simple clog to a major leak. Many of these problems are considered emergencies because they can cause water damage, threaten the health and safety of your family, or prevent you from having access to your own supply of clean, potable water.
Fortunately, there are some ways to know when a plumbing issue is truly an emergency. First, consider whether the problem poses a threat to your home's structural integrity or safety. For example, a leaking gas pipe or sewer backup is an obvious emergency that requires immediate attention. Other reasons to call for emergency plumbing include:
If a broken fixture isn't posing any threats, it might still be best to contact an emergency plumber. This is especially true if the problem could get worse over time, such as a leaking toilet that's leaving a trail of rust on your floor. In this case, you should close the water valve to the fixture and try to clean it up as much as possible. You can also try to stop the leaking by taping a plastic bag over the fixture or blocking it off completely.
Another common sign of a plumbing emergency is if multiple fixtures are backed up simultaneously. This can be caused by a clogged toilet, a leaking washing machine, or other issues. If you experience this issue, shut off the water to each fixture and call a plumber immediately.
Frozen pipes are another serious plumbing problem that calls for emergency services. If left untreated, frozen pipes can burst, leading to costly repairs and water damage. Emergency plumbers can use specialized equipment to safely thaw frozen pipes and restore normal water flow.
It's not uncommon for homeowners to walk into a basement full of water if they neglect to call for emergency plumbing. Water can cause extensive damage to flooring, furniture, utilities, and even the foundation of your home if not addressed promptly. Emergency plumbers can tackle any type of flooding issue and prevent further damage from occurring to your home or business.
Burst Pipes
One of the worst things that can happen is for a pipe to burst. This is considered a true plumbing emergency and requires the help of an emergency plumber as soon as possible to prevent further damage to your home or business.
When a pipe bursts, it can unleash gallons of water into the home or office. This can lead to severe damage and can cost a lot of money. It can also compromise the structural integrity of your building, leading to collapsed ceilings and weakened walls.
If you have a burst pipe, the first thing to do is turn off the water main. This can limit how much water leaks into the building until a plumber arrives. You should also try to minimize any additional damage by removing any electronics, paper documents, and other items from the area that is flooding. You should also make sure to close the water valve closest to the burst pipe so that it cannot send any more water through the broken pipe.
Another sign that you have a burst pipe is if you notice discoloration on your walls or ceiling. This can be caused by rust or other sediment from the pipes, and it is a clear indication that there is a problem with your plumbing that needs to be addressed immediately.
In addition to checking the water main, you should also check your water bills to see if there is a drastic increase in usage. This can indicate a burst pipe or a leaking fixture, and it will be good to know if you need to schedule an emergency plumber for repair work.
In some cases, a burst pipe will not be immediately apparent, especially if it is located in the basement or an enclosed space that is hard to access. If you suspect that you have a burst pipe, call your local emergency plumber and follow the tips above to limit the damage until the professional arrives. By taking these steps, you can limit the impact of a burst pipe and reduce the need for expensive repairs or rebuilding of your property.
Faulty Shut-Off
A shut-off valve is an important tool for preventing serious water damage. However, like any other plumbing component, it can break down over time. If yours stops working suddenly, it's a sign of a serious problem that requires emergency plumbing services. To avoid this, have your plumber inspect it regularly for signs of wear and tear.
One of the most common reasons for a shut-off valve to stop working is that it's partially stuck. This happens when the plumber turns it off but it doesn't fully close, leaving water in your pipes. To fix this, your plumber will need to disassemble the faucet and unscrew the valve. They may need to use WD-40 or penetrating oil to loosen it up and make sure it can be closed completely.
Another way that a shut-off valve might malfunction is if the handle spins but doesn't turn off your water. This can happen if the valve is old and worn down, or if there's a blockage in the line. In either case, you'll need a plumber to replace it as soon as possible to prevent further problems.
If your shut-off valves have stopped working, the first thing you should do is turn off the water at the main water valve in your home. This is usually located on the front side of your house near where the pipe enters the ground. Then, you should call an emergency plumber to come out and replace the broken valve.
A burst pipe can also cause major flooding and water damage if it isn't fixed quickly enough. This type of problem is often caused by corrosion or frozen pipes, so it's important to keep an eye on your home for any potential issues.
Other signs that you need an emergency plumber include a persistent clog, the smell of sewage in your home, or any flooding or water damage. Any of these can be dangerous and shouldn't be ignored. By knowing the signs of a plumbing emergency and when to call an emergency plumber, you can save yourself a lot of stress and money in the long run.