Most homeowners don't give much thought to their water heater, until it goes bad. Suddenly, hot showers become impossible, laundry is left unwashed, and dishes pile up.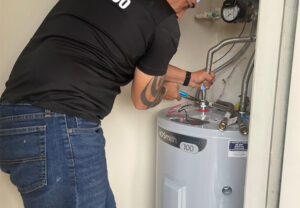 Most common issues with water heaters revolve around the pilot light and gas control valve. But there are a number of other things that could go wrong with your unit. For professional help, contact Water Heater Repair Tampa now!
Thermostats are the brains of your water heater. They read the temperature settings in your home and determine when to turn on or off the heating elements to keep the hot water flowing. They also control the rate of flow. Having the thermostat properly set will ensure that you have enough hot water for your family to shower, wash dishes and bathe, as well as maintain your water heaters lifespan.
If you're not getting enough hot water, the first thing to do is check the thermostat. It could be set incorrectly, especially if you've recently worked on the heater or moved into a new house. If it's set higher than a preferable setting, it can increase your electric bill and cause your water to be hotter than you want it.
You should also check the electrical panel to make sure that the breaker is in the "On" position and that the fuse is not blown. If the breaker or fuse is blown, it needs to be replaced. It's also a good idea to perform Ohms (or Resistance) tests on the upper and lower heating elements with the power to the tank off.
This will give you a better understanding of how the thermostat and heating elements function together and what the readings should look like. Once you've turned the water back on, perform the same tests to see if the heating element is working correctly.
Another possible reason for not having enough hot water is that the tank's insulation is worn out. This is particularly common in older homes and can be a big problem with electric tanks. Insulation loss increases the amount of heat that is transferred to the bottom of the tank, which causes the metal to rust faster. It also clogs the supply lines and reduces the efficiency of the burners or heating elements.
A faulty thermostat can be difficult to diagnose and replace, but the process is not as complicated as you might think. Having the right information can save you time and money when it comes to repairs and maintenance.
Element
An electric water heater has two heating elements, and if one of them goes bad, you may notice your hot water doesn't come through as hot. A heating element isn't expensive, and you can usually find a replacement in a repair kit. If you do choose to replace the element, be sure to purchase a new gasket to ensure a good fit. You should also be sure to turn off power to your electric water heater, either at the main fuse box or the circuit breaker, before you attempt this repair.
A common problem with older units is a rust buildup in the tank that prevents the element from producing heat. This can be a very serious issue that can lead to the unit leaking and creating water damage. In this case, you may need to replace the whole water heater, but it is important to consult a professional plumber to see if repairing your current unit will work before making such a major investment.
Another problem with older units is that a puddle of water around the tank can cause severe damage to your home's structure and must be addressed immediately by cutting off your water supply and calling a plumber. Often, this issue cannot be repaired and your unit will need to be replaced.
If you've tried to relight the pilot light and it still isn't working, there may be an issue with your thermocouple or gas control valve. While these aren't as easy to fix as the pilot light, they can be easily fixed by a professional.
Another common issue with older units is the dip tube, which helps to transfer cool water from the top of your heater down to the bottom so it can be reheated. The dip tube can become corroded or spring a leak, which means that your hot water will be mixed with cooler water and will be scalding when you use it. Replacing the dip tube is a relatively simple task and doesn't cost too much.
Dip Tube
The dip tube is a small but vital component in your water heater. It directs incoming cold replacement water to the bottom of your tank, warming it and separating it from the hot water floating on top that travels to your faucets and appliances. Without a working dip tube, cold incoming water would simply mix with the hot water in your heater's tank and you'd be left with lukewarm water.
Most modern water heaters use non-metallic (or plastic) dip tubes rather than the older metal models, which were more prone to corrosion. Despite this, it's possible for the plastic to erode over time, particularly when submerged in water of different temperatures and acidity. This is why many homeowners notice that their hot water isn't as warm as it used to be, and may find small pieces of plastic in appliance filters and other parts of their home plumbing.
If you suspect that your water heater's dip tube is degrading, it's easy to replace. First, shut off the power at your circuit breaker for an electric water heater or the gas valve on your gas heater (depending on your model). Drain your tank by connecting a garden hose to the drain valve located at the bottom of the tank and running it to a drain.
After draining, close the cold water supply valve on your water heater and disconnect the dip tube. This is a short piece of pipe threaded on both ends and usually has a pipe nipple and connector that can be removed by turning them counterclockwise. Once you've removed the old dip tube, drop in a new one of the same length as the old. Be sure to choose a non-metallic dip tube that's designed to withstand the acidity and temperatures of your hot water.
There are also a number of upgraded dip tube designs on the market that can enhance your water heater's functionality, such as curved tubes that swirl your water as it passes through the tank to better stir up sediment and reduce mineral buildup. Choosing the right dip tube can save you money on utility bills, and is well worth your time to keep in tip-top shape!
Pressure Valve
The pressure relief valve is the most important water heater component to have working properly. This valve is designed to keep pressure below the water heater tank's maximum safe pressure level, typically 150 psi (pounds per square inch). When it senses that pressure is building beyond this limit it opens and allows excess pressure to flow through it. This prevents the water pressure from reaching dangerous levels and potentially causing the tank to burst, flooding your home.
The valve is controlled by a spring that is compressed by the water pressure in your home's pipes and regulated by a set point on the downstream side of the valve. This setting is determined by the distance between the regulator's pressure-sensing passage and the pipeline's Maximum Operating Pressure (MOP).
During operation, as the hot water flows through the system the pressure rises. This pressure is sensed in the pressure-sensing passage A and the spool shifts to allow flow. When the spool shifts, the pressure in the pressure-sensing passage B is greater than the pressure set point and the valve opens. Then the spool is retracted and the system pressure drops to the set point in the pressure-sensing passage C.
If your water heater's temperature and pressure are ok but you're experiencing banging noises coming from your tank it could be caused by loose connections or a faulty relief valve. It's a good idea to have a professional inspect your water heater for loose or leaking connections at least once a year.
Turn off the water at your main shut-off valve. Remove the existing water pressure regulator and clean all surfaces where the new one will attach using grit cloth. Use a tape measure to mark the length of pipe that needs to be cut away from the wall to make room for the new regulator, then cut the pipe to this measurement. Make sure to mark the position of your new pressure regulator so you can reinstall it correctly. Once the pipe is cut, mark the location where the threaded couplings will go. Remove the old couplings and replace them with new ones. Screw the new pressure regulator onto the couplings, then tighten the external screw on the regulator.